We had a great day on Thursday. We were able to visit the orphanage where our group's children spent some of their time. Will was in foster care and went to preschool in a program provided by Half the Sky. The orphanage is also a Half the Sky facility which provides care to many severely disabled children. They receive physical therapy, education, and from what I could see, very loving care while they are there. Some of the children have only minor special needs and will soon be adopted by families.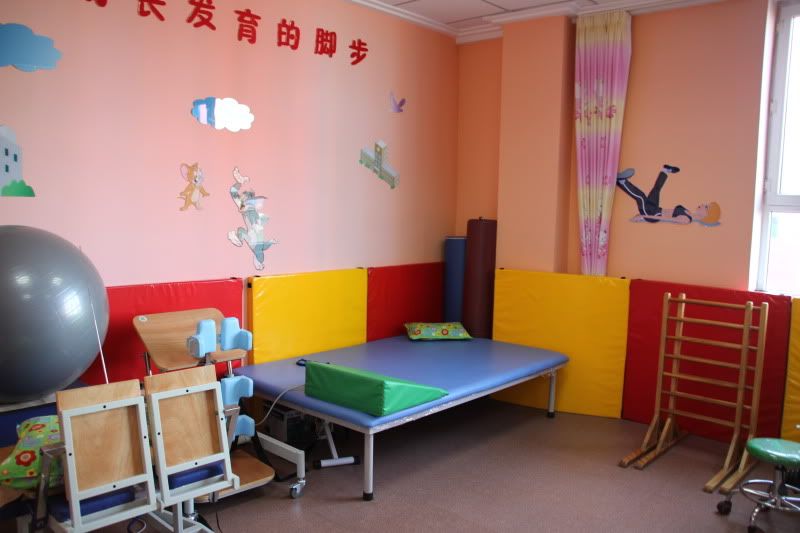 My child is lucky. Born by a twist of fate (or by God's grace) in an area with such a wonderful place to be cared for until he could join his forever family. I have now adopted a child from an orphanage where my child was fed and changed but received no attention whatsoever to encourage appropriate physical develop. I have a child from an orphanage where my child was fed and given attention, but the effects of long term institutionalization were very evident in their ability to bond and have close relationships (we have obviously worked through this!). I now also have a child that was nurtured in the way a child should be and the difference is amazing. Over the past few weeks I have heard from so many people that what our family is doing is so nice. We aren't any more special (or nicer) than anyone else. I have had thoughts that this was a mistake, more than we could handle, was messing up our normal routing, and I have been scared, but then I saw his face and he stopped crying and he gave me a hug and told me he loved me – where we are is no mistake! We just love our kids and knew we could love more. We were open to this gift that God had in store for us. Thanks to God for leaving our hearts open so we didn't miss this! If you want to do something nice for a child or orphan (and you should be doing this on a regular basis), sponsor a child through World Vision, give a generous donation to an organization like Half the Sky or Love Without Boundaries that is changing the world for orphans, send a shoebox gift through Samaritan's Purse, donate food/clothing/toys to your local food pantry this holiday to help a local child in need. If you have the space in your home, the ability to love a child in your heart, and a knowledge that God won't give you anything you can't handle, consider adoption. It has changed my life and it has changed the life of my entire family and I wouldn't have missed it for the world!
I tell you the truth, when you did it to one of the least of these my brothers and sisters, you were doing it to me!
Matthew 25:40